Meet Ryan Chapman, New TSCID Board Secretary
The newest member of the Tucker Summit CID board of directors, Ryan Chapman, was also appointed as board secretary during the June 11 board meeting. Chapman is the president and CEO of GPI Group as well as the co-owner of Tucker Brewing Company, both occupying the property at 2003 South Bibb Drive.

Tucker Brewing has continually looked for ways to give back to the community either by getting involved with area schools or with river and neighborhood cleanups. When asked why he got involved with TSCID, Chapman replied that he wanted to do more for the district since he had become very familiar with the permitting and operational processes of the City of Tucker when opening Tucker Brewing Company. As a result, he wanted to find a way to help others using his business knowledge.

As he adjusts to his new board role, Chapman plans to support the TSCID staff in any way he can. His goal is to help the district grow and do well, with a mission to make TSCID a better, safer place for everyone.
Hurricane season has begun and lasts through November 30 worldwide. You may not know that several Tucker Summit CID businesses regularly roll up their sleeves to pitch in and help annually.

Stephen Aboagye, manager of the 25,000 square foot North American production and distribution center of the Church of Latter-day Saints (LDS), off of N. Royal Atlanta Drive, is no stranger to rounding up volunteers and supplies to aide those in need following a natural disaster. In the past four years alone, volunteers have loaded numerous trucks filled with critical supplies and food to emergency areas. In addition to supplies, LDS provides response teams from congregations within a 150-mile radius. Following floods, tornados and hurricanes LDS has tirelessly helped victims in Dominica, Florida, Georgia, Louisiana, Mississippi, North Carolina, Ohio, Puerto Rico, South Carolina, St. Croix, St. Marteen, St. Thomas, Texas and West Virginia.

Earlier this year, Friends of Disabled Adults and Children (FODAC), a nonprofit dedicated to providing medical equipment and services to those living with a disability, was accepted into the National Voluntary Organizations Active in Disaster (National VOAD). National VOAD is a coalition of volunteer organizations that provide relief resources to survivors and communities in the wake of a natural disaster. FODAC was most noted in leading its disaster recovery efforts during the aftermath of Hurricanes Katrina, Florence and Maria by coordinating shipments of wheelchairs, walkers, respirators and other vital medical equipment as well as providing an onsite support team.

Thermo Pac, located on Stone Ridge Drive, is a Global Food Safety Initiative (GFSI) Certified food processing and packing facility that specializes in pre-assembled, nutritionally-packed, shelf-stable food kits. Not only does Thermo Pac produce retail meal packages, but they have also developed lightweight, self-heating meals ideal for emergency situations in areas with limited access to electricity. The company is also involved in an effort to combat international child hunger with its Ready-to-Use Therapeutic Foods (RUTF), high energy, fortified, ready-to-eat meals, distributed to children suffering from severe malnutrition. Thermo Pac partners with UNICEF, USAID and other government agencies to distribute the RUTF.

These organizations chose to locate in Tucker Summit CID due to its accessibility to major highways and arteries along with the commercial warehouse spaces large enough to handle the supplies and equipment.
---
New Businesses in TSCID
Speedway
The new Speedway is now open on Mountain Industrial Boulevard at East Ponce de Leon Avenue. The gas station has 10 fuel pumps, full diesel tractor trailer capability and a brand new Speedy Café with freshly prepared food and beverages.
Underpriced Furniture
Brush is being cleared at 4473 Sarr Parkway to prepare for the Underpriced Furniture retail center to break ground. Stay tuned for the date announcement for the groundbreaking ceremony later this month.
---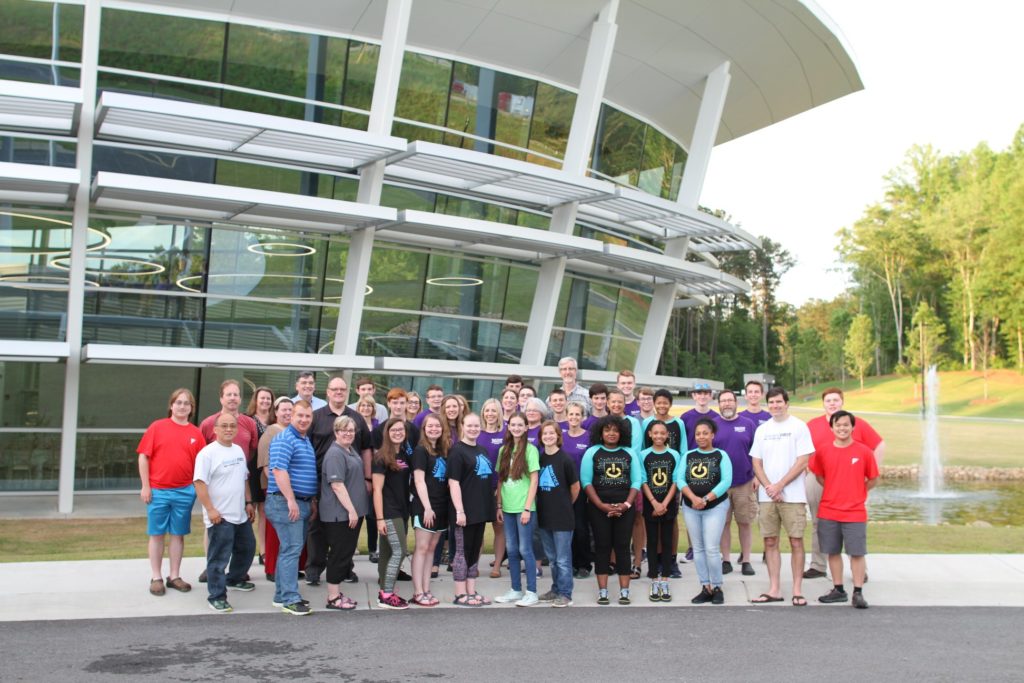 InteractFIRST Alliance (IFA), a coalition of Atlanta's FIRST Robotics Competition (FRC) teams (including TSCID's-sponsored Team Reboot) that builds "power wheels" for disabled children, held its first alliance meeting in early June. More than 40 members and mentors converged at Yanmar Evo Center in Acworth to learn more about the program and inspect the enhanced wheelchairs that they will be designing and building.

To learn more about the Alliance and to follow the progress of Team Reboot's efforts, please visit IFA's website.

The FIRST Robotics Competitions gives students the opportunities to learn science, engineering and technology and combine it with the excitement of sport and competition and TSCID is proud to sponsor Team Reboot and help foster these bright young minds. If you would like to become involved in Team Reboot's efforts, please contact Deneise Turner at fbt6@cdc.gov.

Team Reboot may have an exciting announcement about a new space soon, stay tuned!
---
Tucker Summit CID's August Member Mixer
Save the date for the TSCID Fall Member Mixer on Thursday, August 22, at Tucker Brewing Company! Food and drink will be provided as you mix and mingle with fellow TSCID business owners and affiliates.

If you or your company would like to be an event sponsor, please contact our communications firm.

Tucker Brewing Company is located at 2003 South Bibb Drive, Tucker, GA 30084. We hope to see you there!

If you would like to volunteer with Tucker Brewing for the Painting and Small Repairs Day at Idlewood Elementary School on Saturday, July 20, please sign up here.
TKR Summer of Fun
TSCID is proud to be a sponsor of the City of Tucker's TKR Summer of Fun.
Tucker held its Second Annual Celebration of Independence and Fireworks Spectacular on July 3.

The Summer of Fun will close out on August 6 with the City's third annual National Night Out Celebration with DeKalb County's Police Department and civil servants at Brockett Elementary School. 

For more information on the TKR Summer of Fun, please visit the City of Tucker's website.
CID Project Updates
Freight Cluster Plan Study RFP Update
The search for a firm to conduct the Freight Cluster Plan Study is underway. The plan will study Mountain Industrial Boulevard, Hugh Howell Road and East Ponce de Leon Avenue connecting to Jimmy Carter Boulevard at Interstate 85, North Hairston Road and Indian Trail Road is underway. Officials are meeting with eight firms to discuss the scope of work and to narrow down the prospects.
---
TSCID Sidewalk Project
The City of Tucker has begun filling in connectivity gaps to the sidewalks in high traffic areas located in TSCID. Construction is scheduled for the following critical areas with more slated for fall.
Hugh Howell Road – From Tucker Industrial Boulevard to Mountain Industrial Boulevard
Elmdale Drive – From Tucker Industrial Boulevard to Mountain
Cooledge Road – From Edinburgh Way to Brockett Road Industrial Boulevard
Brockett Road – From Lavista Road to Lawrenceville Highway
---
New MARTA Bus Shelters
New MARTA bus shelters and trash receptacles will be constructed at the following bus stops within TSCID:
North Royal Drive at Commerce Place
Mountain Industrial Boulevard at East Ponce de Leon Avenue
Tuckerstone Parkway at Mountain Industrial Boulevard
E Ponce de Leon Avenue at Juliette Road
Help keep TSCID incredible by using these new bins.
Tucker Summit CID has a new website! Please visit www.tuckersummitcid.com for news and updates and follow us on LinkedIn.

To have your business or event included in our next CID newsletter, please contact Emory Morsberger at 770-409-8100 or email emory@tuckersummitcid.com.